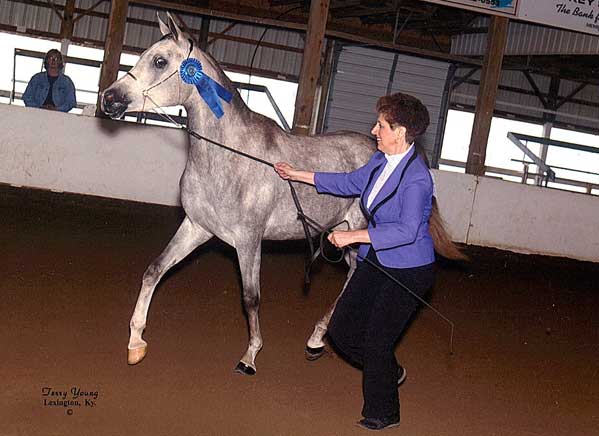 Maliah Dal Moniet
(HA Jaahdal x PLF Shamaliah)
2001 Grey Mare
Straight Egyptian
Maliah dal Moniet, or Leah, is a granddaughter of the famous Imperial Imdal, who was shown at the Salon du Cheval in Paris in 1986. Imdal caused a sensation as the first straight Egyptian stallion to win the title of Senior World Champion. Leah took Reserve Champion Mare at 2 years old, her first time out. She is now in training with Andrea Durham for Sport Horse and beginning her Dressage career.
Leah won her first Dressage test at the 2007 Michigan Fall Classic after only 2 weeks of training.
-Leah has been bred to Orashan in 2009. We invite inquiries for what will be an outstanding foal.
Maliah Dal Moniet
HA Jaahdal
Imperial Imdal
Ansata Imperial
Dalia
Shalpasha Najib
AK Najib Pasha
Shalimaar
PLF Shamaliah
Amir Ibn Shamah
*Morafic
*Shameh
*Serenity Shahra
Anter
Shahrzada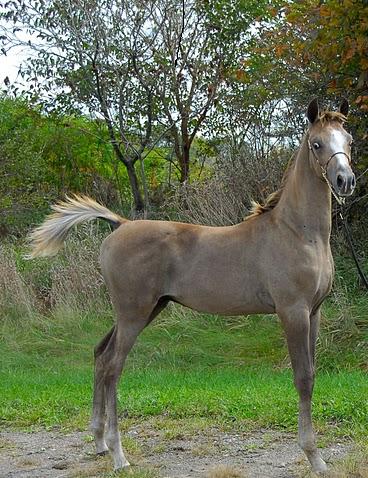 SDL Oran Dal Moniet
(*Orashan x Maliah Dal Moniet)
May 2010 Gray Colt
SDL Bay –Maariiah
(El Rashiid MA x HWF Bayliah)
May 2008 Chestnut Filly
Pictured above at 6 weeks old, please view her video below.
Egyptian Event & Sweepstakes Nominated 2008 chestnut filly, straight Egyptian, Al Khamsa, pure in strain Hadbah Enzahi, her pedigree reads like a Who's Who includes the Aristocrat Mare, Maar-Ree in both her sire's and dam's pedigrees, Shiko Ibn Sheikh, and *Ansata Ibn Halima. She has type, beauty and will have strong movement. She should mature to at least 15.2hh. Maariiah has an excellent hip, and substantial bone that will carry anyone to a blue ribbon in the show ring. An exceptional performance prospect in show hack, hunter, western pleasure, halter, or a great addition to any broodmare herd.
$9,000 negotiable to a show home. No The Minstril blood.
SDL Bay-Maariiah
El Rashiid MA
El Majiid
Ansata Ibn Halima
Ansata Jellabia
Maar-Riana
El Mareekh
MFA Kiia
HWF Bayliah
AK Bay Moniet
*Ibn Moniet El Nefous
Shallha
PLF Shamaliah
Amir Ibn Shamah
*Serenity Shahra